Everyone loves a bargain, and even though Christmas may have maxed out everyone's bank balances, January is still one of the best times to get some shopping done.
Previously, shops and department stores have waited until January to launch their sales, but nowadays most start on Boxing Day or the day after and this is when you will find the best bargains before stock runs out.
Please remember that there is a limited service on public transport in London on Boxing Day and New Year's Day, so make sure you plan your journey ahead.
To help you find the best bargains, we have created a list of the best shopping locations to visit in London:
Oxford Street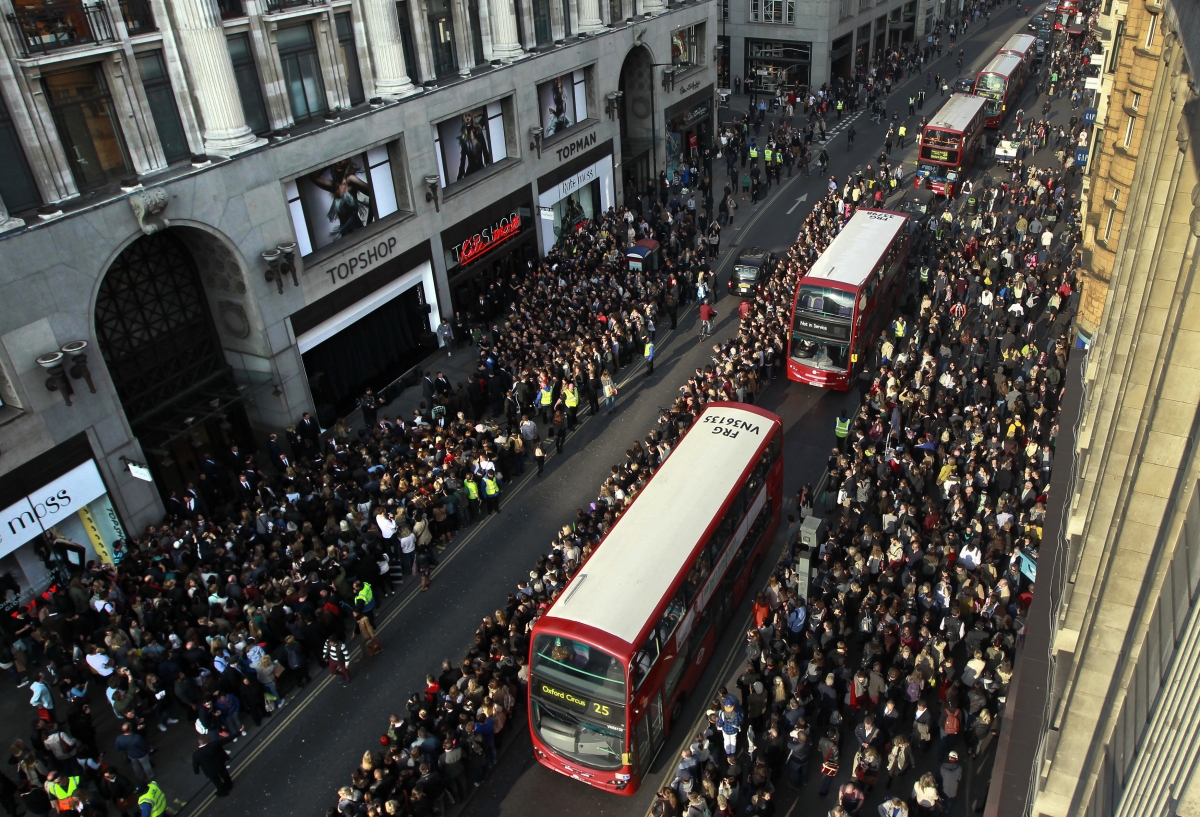 Oxford Street is the most popular shopping street in all of London and it is understandable as the street is lined with over 100 shops, including Selfridges, H&M, Topshop and Primark.
If you're heading down to Oxford Street, make sure you are prepared for the crowds of people who are ready to grab those bargains as early as 5am on Boxing Day!
Carnaby Street
Just a 2 minute walk from Oxford Street, Carnaby Street in one of the main fashion streets from the swinging 60s and is home to boutique shops and designer names. This iconic street is guaranteed to have the best and biggest bargains on during the January Sales.
Carnaby Street and its neighbouring 13 streets are perfect for shopping as they also house fantastic budget restaurants, cafés and bars.
Westfields
Westfields is a great shopping centre and feels like a city within a city!
The shopping mall is the size of 30 football pitches, allowing it to hold over 255 shops. From Apple and the LEGO store to Topshop and even a build a bear workshop, this shopping centre has something for everyone!
Although all the shops in the mall will be having their own sales starting on 26th December, not all will be open:
26th December: the mall will open at 7am and close at 11pm
27th December: the mall will be open from 8am until 11pm, so there is plenty of time to get all of those cheap bargains in.
Again, be prepared to handle the mad crowds that will be mobbing the mall on the 26th and 27th December.
Use the Central Line tube to Shepard's Bush, which is east of Hyde Park, to get to Westfields.
Shoreditch
Shoreditch, AKA the hipster's paradise, is one of the best up and coming areas in London and will be one of the biggest centres for shopping in the whole city in the near future.
Filled with lots of small boutiques and vintage shops with both the best of the latest fashion and perfect vintage bargains, Shoreditch is one of the most unique and quirkiest places to visit in London.
The sales are just as amazing as the shops! For example, the unique popup shop Boxpark will be offering 50% off its hip and trendy clothing items.
The best tubes station for Shoreditch is Shoreditch High-street, accessible via the Overground Tube Line which will put you right in the heart of all the shopping.
Stoke Newington 
Known unofficially as 'Stokey' to the locals, Stoke Newington is the best place for independent shops holding the best sales after Christmas.
It is the perfect place to get all those unusual items and products that you won't find on the high street. Looking at the shops you will feel like you have been taken back to the 1980s with all the vintage, organic and Fairtrade shops lining the streets.
You can also enjoy some of the best homemade food in London from the large selection of cafes, bars and coffee shops lining every street.
Stoke Newington is not too far away from Clink, but we suggest getting the number 73 or 467 bus from Pentonville Road. This journey will only take you around 30 minutes.
Borough Market
Although Borough Market is predominantly market stalls, there will still be plenty of fantastic sales on in the boutique shops and British stalls.
It is definitely the place for foodies as it sells a large variety of local and international produce. It is also the perfect place to go and relax with some beautiful food after a hectic days shopping on Boxing Day.
Unlike other places in London, Borough Market will be closed on Boxing Day but will be open again on Saturday 27th December from 8am, so you can still grab some amazing sale items!
Borough Market is in Southwalk located near to London Bridge. We recommend taking the tube: jump on the Northern Line straight from Kings Cross to London Bridge station.
Most January sales start on Boxing Day and run straight through until between the middle and end of January.
To help with this, Clink Hostels have a very special January Sale: not  only are our bed prices at the cheapest rate compared to the rest of the year, we are now offering 15% off any booking booked for 3 days in either Clink78 or Clink261 for the whole of January. Now you have no excuse not to come to London and grab those bargain sale items you always wanted!
Planning your trip to London?  Find out more about Clink78 and Clink261, or visit our group accommodation page to find out more about our rates and best deals.