Winter in London is beautiful. The streets are strung with lights and the city twinkles in the evening. However, winter in London can also be quite brutal if you're not prepared. Braving the cold, wet conditions to indulge in a glass of mulled wine around a blazing pub fireplace or venturing out to see the DJs playing in the middle of Carnaby Street at Christmas is definitely worth it – but you need to pack with the weather in mind to truly enjoy your time in the city this winter.
On that note, here is Clink's guide to everything you're going to need to embrace the cold and the cool in London this year.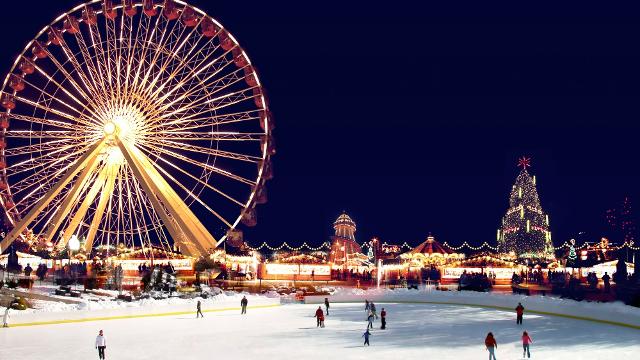 Image courtesy of LondonandPartners.com
What to wear in winter in London
Surviving the cooler months is all about one thing – layering. You need to understand that while the temperatures outside may dip into the arctic levels, public transport, bars, shops and theatres will all be delightfully toasty and warm.
A winter coat
Now, it's not enough to whip on 3 jumpers and brace yourself. You're going to need a large coat that you can simply chuck over whatever else you're wearing just in case you need to pop out for a second.
The key factors to choosing the right coat are pretty simple:
Is it easy to wear? You're looking to pack something that you can swing on and off as you go from tube to bar to street to hostel. Anything that causes a struggle, is too tight or takes more than 4 seconds to shrug on is just going to become irritating. Don't sacrifice warmth for 'style' here.
Is it windproof? Regardless of how gorgeous that cashmere coat is, if it's not going to protect you against the wind, leave it at home. One of the most important things here is that while you're out and about, you don't want to feel like the Pillsbury Doughboy. Layering is important, but needing to wear too many will make you uncomfortable and sweaty. Eww. Do the smart thing and make sure your coat will keep you out the wind, leaving you needing one less layer to keep you toasty.
Is it large? This may seem an odd question, but not only should you be able to fit a shirt and another jumper below it, you're also going to want to cover up as much as possible. A coat that cuts off at the hips is going to make for some frosty thighs. Be smart and choose one that ends just above the knee.
Are you packed and ready for your London winter trip, but still looking for things to do? We've got you covered! Check out our amazing guide to find the most exciting things to do in London this weekend!
A good pair of boots
This one may seem obvious, but the right shoe is going to determine whether or not your feet are warm and fuzzy or wet, cold and achy. As I'm sure no one finds the latter desirable, you'll need to ensure that not only are your shoes waterproof (in case of accidental puddle encounters), they are also nice and comfy – walking London's streets on a winter night with the dazzling lights surrounding you is one of my favourite things to do.
However, when you're beating the crowds on Regent Street or making your way through the throng at Trafalgar Square, you are going to wish you'd traded in your brogues for some decent, hard-wearing boots. Trust me on this.
Also – don't forget socks! If you're not planning on packing two pairs per day, you are going to find yourself dashing to Primark to keep your tootsies toasty.
Accessories
These are not mentioned for cosmetic purposes. To truly stay warm and happy during your London winter trip, you will need to ensure you pack these items:
Gloves. Speaks for itself – it's cold and you want to keep your hands warm. I'd suggest the leather or windproof versions; as with the coat, you want to keep the wind out, and knitwear just won't do.
Scarf and beanie. Every little opening is a way for the wind and rain to sneak in. Keep the heat in with a good, fluffy beanie and scarf combo. If you can find one in rainbow colours, all the better – simply so Londoners can smile when they see you!
Sunglasses. Okay, I know what you're thinking! If you haven't grown up in colder climates, this one may confuse you. With the cloud cover so consistent and the constantly wet concrete reflecting the ambient light, London can get BRIGHT. You're going to need those glasses to keep your eyes safe, and to make sure you can still see that hottie you've been following through Hyde Park since you spotted their rainbow beanie.
Follow our tips and you'll be guaranteed to survive the winter, while enjoying all London has to offer. 
Now you know what to pack for a snuggly warm winter in London, why not check out some super-affordable accommodation? Find out more about Clink78 and Clink261, or visit our group accommodation page to find out more about our rates and best deals.
Main Image from "Mind the Gap"
Written by Caitlin (A.K.A. The Indie Butterfly).
Caitlin is a writer, traveller and part-time superhero. Currently living in London, read more of her work on her blog, or stalk her on Facebook, Twitter and Instagram.
Planning a trip to London?  Find out more about Clink78 and Clink261, or visit our group accommodation page to find out more about our rates and best deals.